A Firstline Securities Limited Blog by: Renata Girod
I cannot say that I know one person who would not want to be able to live life with sufficient income that can adequately cover their expenses, without depending on a job.
I believe most of us dream of attaining that seemingly elusive state of financial freedom like my cousin who just started working, my sister who has a small nest egg, my middle-aged neighbour who has just built a studio apartment for rent, or my brother-in-law who is saving a small sum with three financial institutions. Do you think financial freedom is possible for them?
Those of us with that burning aspiration often think of successful businessmen, actors and innovators and how can we achieve the success they have, that is, become wealthy and financially free. We tend to think financial independence is just for the wealthy but it's not!
Amassing wealth and becoming financially independent is a process that takes time, dedication and work. It does not happen on its own: it is a journey. As a colleague recently told me, "it starts with paying yourself first."
  
Here are 3 tips you should try to remember:
Seek out ways to get more money
Invest in assets that pay YOU
Continuously build on your investments
Escape the trap and seek out ways to get more money
:
It may be tough, but you need to tighten your belt.  Don't just say it – do it!  For example, do you really need to buy lunch every day?
Increase your income

Ask for a raise
Seek higher paying opportunities (pursue educational courses to help you)
Start a small business
Do part time work
Open Savings accounts with no/ low monthly fees
Avoid loans as much as possible

Start while you are young: you tend to not 'miss' the money and it accumulates quickly
Aim to save 50% of your salary every month
Invest in Assets that pay you.
Use the money that you have saved from 'escaping the trap' to start building your investment portfolio. Building an investment portfolio may sound complicated but it's actually quite straightforward.
~Learning about investing is easy….
Walk in or call different financial institutions and speak to their financial advisors: find out what are the best returns they can offer you
Work with a Financial Services firm, such as Firstline Securities Limited
Talk to your colleagues, friends and family about where they are investing
Learn on your own
~Look for cash generators and invest in a mix of them
Open mutual funds or fixed deposits that pay competitive rates of interest.
Open accounts that invest in stocks and bonds and pay dividends.
Invest directly in stocks and bonds through a broker/ dealer.
Invest in tax free accounts (retirement plans)
Continue to build on your investments: As the money you are saving starts to accumulate, it's wise to begin investing on a larger scale.  Use your growing cash to:
Start up or expand your business
Build a home extension for rental income that can be reinvested
Make a down payment on/ or purchase of an investment property
Invest in larger, slightly riskier investments. They will carry more attractive returns
Keep investing and re-investing over the long term
Stay abreast of what the market is offering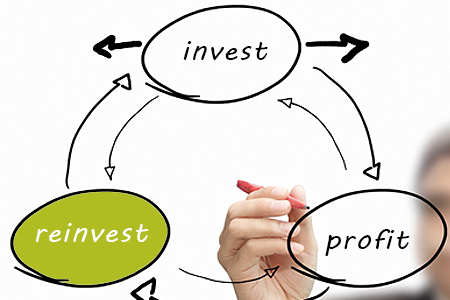 Financial independence is attainable with the right planning and dedication. It would not be quick, but if you start now and work with the right financial partner financial freedom can be within your grasp.
Let Firstline Securities Limited show you how to grow your wealth while you sleep and begin your journey to financial independence today!
If you require further information on any of the above, or wish to become more familiar with the sort of financial instruments on the market that can satisfy your needs feel free to contact us at
info@firstlinesecurities.com
or
(1 868) 628 – 1175/1554
.