A Firstline Securities Limited Blog by: Dalia King
Right now, out there in the world, are wealth managers without personal investment portfolios, insurance agents who aren't insured, traders who've never bought equity positions for themselves – and the list goes on. In other words, if you are unhappy with the current state of your savings and investments, you're not alone. Saving and investing is a no-brainer in theory but very much up for discussion in practice.
The key however, is the discussion. Financial pundits have decided views on how much you should save and in what you should invest. Often, their edicts are so far away from your reality that you simply do nothing at all, which is the worst choice you could make. There's an entire cosmos of options between zero and one hundred.
So, in this article, I'm going to set out some of the reasons why you may not be saving & investing as you should; and then offer some practical work-arounds. It's not going to be all-encompassing because there are as many reasons as there are people in the world; but I hope some resonate with you – and the solutions do too!
"I need to pay my bills, I need to pay my telephone bills, I need to pay my automo…bills"
The above words are re-fashioned from a Destiny's Child lyric and apt for this situation. You need to keep the lights on, the water running and the car functioning. However, when you deal only with life's short-term expenses, you're doing a disservice to your future self.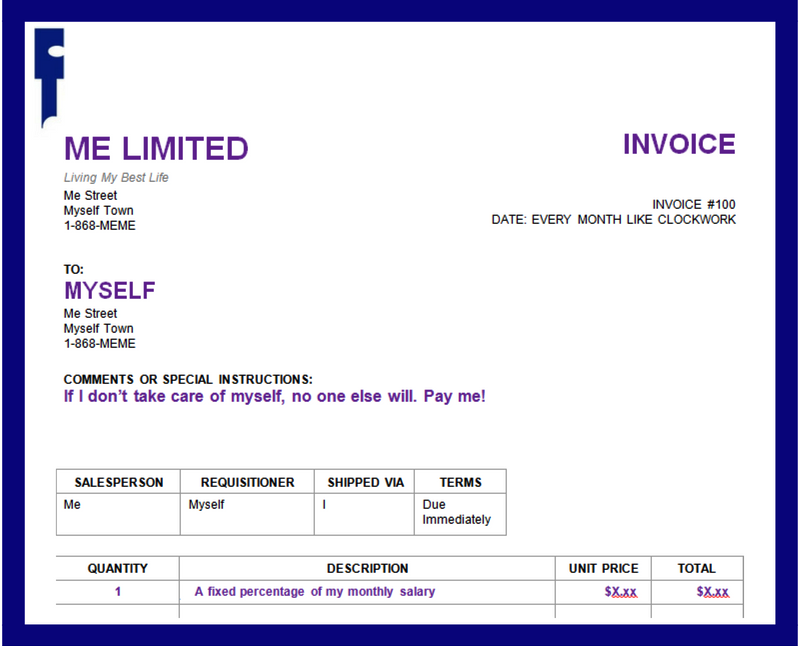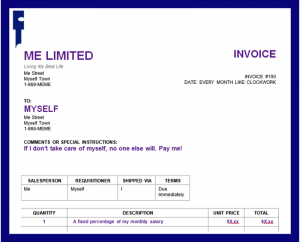 Suggestions:
Pay yourself first. You've heard it before and you'll hear it many a time again because it's sound advice. Think of yourself as one of those companies that you must pay regularly: Me Limited. The most effective and least painful way to pay yourself is via bank standing order or salary deduction where you make the decision just once to squirrel away funds and an automated process takes it over from there.
Analyse your monthly expenses. Which are fixed and which are discretionary? Which are non-discretionary but there's room for amendment or negotiation? This type of review can easily morph into a budgeting exercise that (when done comprehensively) involves an analysis of your priorities. What is fixed for Peter is pure luxury for Pablo. There's no right answer, there's only your answer; but you need to have made a conscious decision to live your life in the way that you do.
"I save you know…but I dip into it now and again. And again. And again."
This can either be about self-control (and how much you lack it) or symptomatic of an unrealistic savings plan.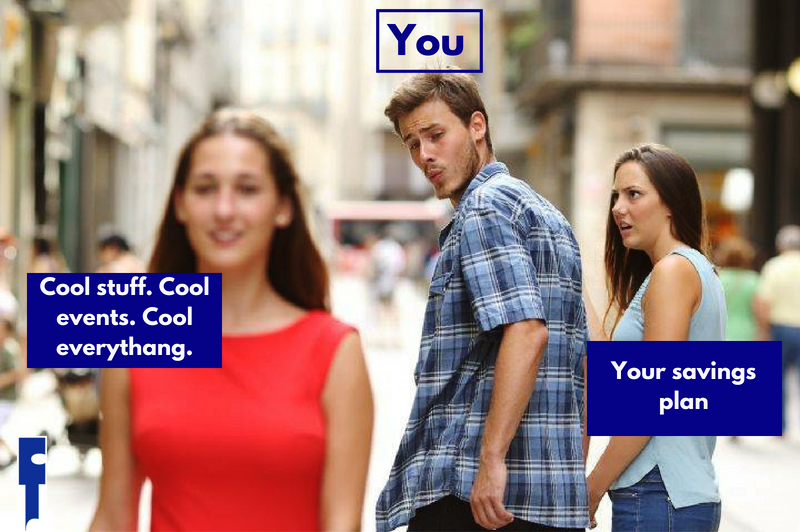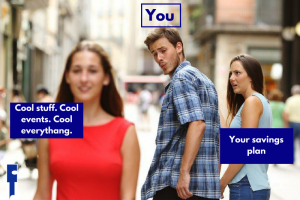 Suggestions:
Make your savings and investments hard to withdraw. If your savings account comes with a debit card, you're probably not using it to save. For those of us with sticky fingers, place your savings and investments in long-term instruments that 'penalise' withdrawals either by way of fees or with floating NAVs which may cause loss of principal in the short-term and therefore make you think twice about requesting that cheque.
Be realistic. So that financial columnist said you should save 20% of your salary every month but the remaining 80% is never sufficient to meet your expenses and you withdraw most of the savings later on in the month. Assuming you analysed your expenses and minimised what you could, you need to decide on a percentage of your salary that you will not feel compelled by life's exigencies to touch. If you save 20% and then find yourself reaching into that savings kitty until almost the full sum has been withdrawn, you're worse off than if you decided: "I can save 5%" and you stick to that plan.
"I was the best saver in the land…then this happened…"
You fell off the wagon, boy did you. Maybe it was a health emergency that decimated your savings, leaving you despondent. Perhaps it was actually the achievement of one of your goals – the downpayment on your house for example – and now you're unsure of the next goal and 'taking a break' from saving.  This happens in all spheres of our life when we have not yet inculcated habits. Story of my life: I decide to exercise four times a week at 6 pm. For two straight weeks I exercise like the Olympics is coming up and the nation's hopes rest in me. One day I have to attend something at 6pm so I miss my gym session. Your girl never returns. Exercising is not a habit for me and therefore easy to let go.
Suggestions:
Make saving a habit. The studies vary on this, so researchers say it can take anywhere from 2 months to a year to form a habit. As both saving and investing represent forms of delayed gratification, and generally are pains to contemplate and pressure to execute, I would lean towards a year or more of continuous, scheduled savings to be sure the habit has entered your belief system and you're fully on-board with the concept. You don't have to like it; you just know you must do it.
Get back on the horse (wagon?). You know what they say: it's like riding a bike.
"Every last cent goes towards my business"
Hello entrepreneur! You know about taking financial risks and you also know about how to mitigate them. Though your focus is 100% on making a success of your business, it is strategically unwise to funnel 100% of your money there as well. Diversification is not just for investment portfolios.
Suggestions:
Let your company invest. I promised that this article would be practical so while it's important that you operate your business distinct from your personal affairs, we'll save that discussion for another post. So: every last cent goes into your business, but your business also needs to save and it also needs to invest. You can't escape! Even more so than individuals, companies have strategic plans and are always forward-looking. Planning for the future requires a strategic use of cash to make returns for the company via investments, in addition to your main operations.
Ensure you retain some personal savings and investments. I couldn't let this go, sorry. Companies are 'incorporated' for a reason – to have their own 'body'. Your company is not you. Should the worst happen and it enters hard times or even fails, you will still be here and you need to survive – and thrive once again! There's no percentage of your salary (are you paying yourself a salary?) that I want to suggest goes towards personal savings other than that it should be higher than 'nil'.
"I'm going to win Lotto soon. I'll save up a storm then."
Firstly: I believe in you. Work those numbers. Secondly: refer to the section above about forming habits. Please don't be one of those Lotto winners who go bankrupt. The worst story I've ever heard is of the woman who won millions in the lottery twice and went bankrupt twice! The more money you have, the more things you can buy. Savings and investments will drop in priority while you spend up a storm.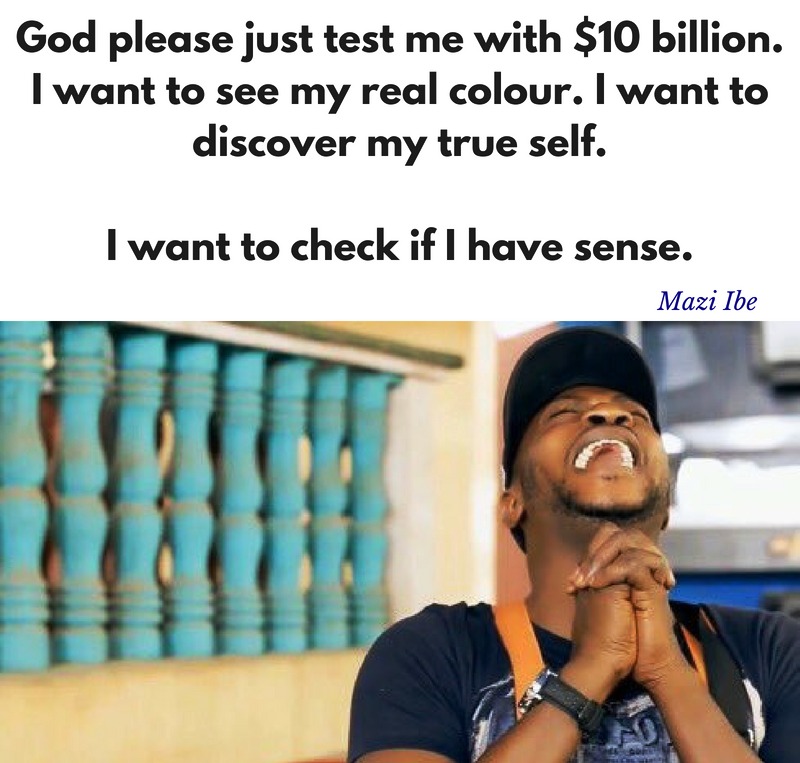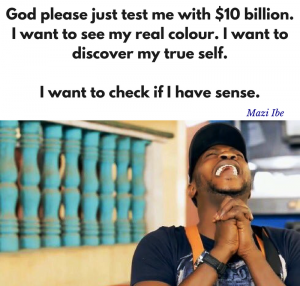 Suggestions:
Start the practice of saving now. That way when the money hits your account, you'd have formed your habit of saving and your belief system would quicker prioritise investing the manna that has fallen from heaven into your lap.
Contact us! We will help turn your lottery riches into true generational wealth.
"Bank interest rates are currently sub 1%. What's the point?"
The good news is that there are more options out there than a bank savings account. That said the bank savings account has its uses – particularly if your current alternative is to save nothing, nowhere.
Suggestions:
Banks themselves offer fixed deposits with higher interest rates (though the minimum deposit required may restrict access)
Join a credit union and benefit from member dividends which are typically higher than what any bank would ever consider paying depositors.
Mutual funds – from banks, unit trusts or investment houses, mutual funds bring the benefit of asset class and sector diversification as well as offer indirect access to the equity markets.
The local stock market is more accessible than you think. It's easy to open a brokerage account (we can help!) and historically equities outperform fixed rate investments in the long-term. The Trinidad and Tobago Stock Exchange is no exception. From January 2003 to December 2017 the average annual rate of return for the TTSE over that fifteen year period was about 8.10%.
Contact us! Not to toot our own horn or anything, but our offerings are pretty amazing. More on them below.
"America has all these amazing investment opportunities and I don't have access to that market."
Listen, I watch Bloomberg too. The average American doesn't know how easy they have it, what with countless online brokerage companies at their fingertips, US dollars in their wallets, the whole NYSE theirs for the taking, if they want it. However, there's no reason you can't benefit from similar opportunities.
Suggestions:
Open an international brokerage account. You do in fact have access – through Firstline! We have partnered with Interactive Brokers to offer multi-currency brokerage accounts with access to the world's stock exchanges. You can decide to operate your account on your own, or have us manage it for you.
TTD opportunities. Even if you don't have USD or another major currency to fund a brokerage account, Firstline offers direct investments in a variety of local instruments that feature competitive returns and are actively managed by us. Our wealth management service is tailored to your needs but enhanced by our expertise. Yes, you've heard that line before. Contact us and we'll prove it!
***
Do you recognise yourself in any of these reasons why you aren't saving and investing as you should? Are there other reasons – and solutions! – you want to share? Feel free to leave a comment below!
In celebration of our shiny new website; and our sincerest wish to grow an active discussion community within it; we're giving away a prize (US$25 Amazon gift card) to one of the commenters who provides a helpful solution to those struggling to save and invest. Yes, we recognise the irony of closing this article on saving with a prize for spending. We're doing it anyway! The winner will be selected at random (I'll be spun around and when dizzy enough, I'll point at the computer screen, like an online game of 'pin the tail').
We look forward to hearing from you!
Have a great day everyone!